Tracer Battery Packs

Tired of lugging around a heavy battery? Discover the latest in portable power.
Tracer LiFePO4 Battery Packs offer a tremendous advantage over traditional sealed lead acid (SLA) batteries. Just a ¼ of the weight our battery packs will fit in your coat pocket with room to spare! You won't believe the difference! Built-in charge indicator shows how much power remains in your battery and whether you need to recharge.
Not only you can use Tracer Battery Backs for powering your Astronomy Equipment but also for Portable Lighting Solutions, Point of Sale displays, Mobile Advertising, Covert Surveillance, Remote Monitoring Equipment, Outside Broadcast Solutions, iPhone charging, Portable TV/DVD players, and many other 12V applications.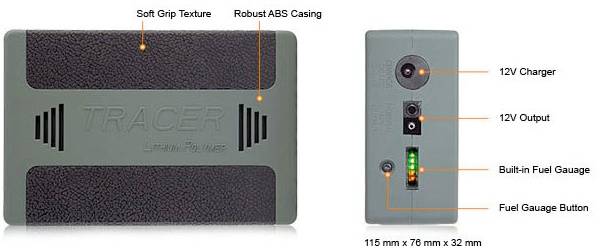 We offer a range of batteries that have a nominal 12V rating from 4Ah to 22Ah in 5 sizes. This chemical construction produces a battery that is the most compact and lightest available. A five LED fuel gauge keeps the user informed of the battery charge state.
They are most suitable for portable solutions such as powering high power lights, but we supply batteries for many other applications such as security, photography, smart phone charging etc. Maximum continuous current is 10A for all models except the 4Ah & 8Ah versions which will deliver 4A & 8A continuous current respectively. Each battery is supplied with an AC mains charger and a 12V vehicle charger.
An internal battery management system (BMS) provides protection in use. All batteries are CE approved and tested to EN38.3 which is the standard for transportation. The batteries are guaranteed for 12 months and will typically give 300 cycles in normal use.

Lighter. Smaller. Better.
Just ¼ of the weight of a traditional sealed lead acid batteries. Our 12V Lithium Polymer battery packs will easily fit in a coat pocket or clip to your belt. Gone are the days of carrying heavy lead-acid batteries. You won't believe the difference!

Flat Discharge - Brighter for longer
Lithium polymer technology gives a very flat discharge curve which means sustained power to the end of the cycle. If you are powering lights they will remain brighter for longer, giving you sustained performance.

Built in Fuel Gauge
With the built in Tracer fuel gauge you can check the power level remaining in the battery. A touch of the button shows how much energy remains and whether you need to recharge.



High Efficiency Smart Charger
The compact 1.6A Smart Charger (included) will charge your battery quickly.

Protection
The battery pack is protected against over charge and discharge, there is also short circuit protection.

Certified Safe
All Tracer Lithium Phosphate batteries conform to standard UN 38.3 which is the ONLY relevant safety standard for lithium batteries. Our battery packs have been through a rigorous testing procedure by UN certified inspectors. You should NEVER handle a non-certified lithium battery pack.