Celestron NexStar SLT Series Telescopes
Introducing the NexStar SLT Series from Celestron. Star locating Telescopes!
Designed to be ab affordable entry level to mid-level computerised telescope, the NexStar SLT are available in the most popu;ar sizes and are loaded with valuable design features. With preassembled, adjustable stainless steel tripods, and quick release fork arms and tubes, NexStar SLT telescopes can be set up in a matter of minutes – with no tools required! You can see details of the lunar surface, Venus and its phases, polar caps on Mars, Jupiter and its four moons, Saturn with its rings plainly visible and much more! Most NexStar SLT's can also be used as a land-based spotting telescope.
Intelligent Design
Powered by 8 AA (user supplied) batteries or an optional AC adapter (#18778) these NexStar GoTo's love to travel. The internal battery compartment provides power to the high precision servo motors for rigid low-vibration performance while eliminating cord wrap issues associated with external battery packs.
With the NexStar's ergonomically designed hand control, the user is free to remove the hand control from its holder for remote use or leave it cradled for hands-free operation. With a touch of a button you can select the object catalog, change the slew speed, view fascinating information about an object, or simply know if a desired object is visible in the sky.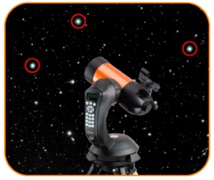 Celestron's Revolutionary SkyAlign
Using Celestron's patented SkyAlign (patent pending), simply input the date, time and location into the hand control then slew the telescope to any three bright celestial objects in the sky. You do not need to know the names of the stars – you can even pick the Moon or bright planets!
Computerized Mount Features
• Proven NexStar computer control technology
• Database allows telescope to locate over 4,000 celestial objects
• SkyAlign allows you to align on any three bright celestial objects, making for a fast and easy alignment process
• Flash upgradeable hand control software and motor control units for downloading product updates over the Internet
• Internal battery compartment to prevent cord wrap during use
• Auxiliary port for additional accessories such as SkySync GPS Accessory (93969)
• Includes NSOL telescope control software for basic control of your telescope via computer (with optional RS-232 cable)
• Compatible with optional NexRemote telescope control software, for advanced control of your telescope via computer
Celestron Nexstar 6 SLT Telescope£849.99 £749.00

Celestron Nexstar 5 SLT Telescope£699.99 £595.00

Celestron NexStar 127SLT Telescope£699.99 £549.00

Celestron NexStar 102 SLT Refractor Telescope£599.99 £499.00

Celestron NexStar 102 SLT Telescope£599.99 £499.00

Celestron NexStar 130 SLT Telescope£589.99 £489.00

Celestron NexStar 90 SLT Telescope£529.99 £459.00

Celestron Skyportal WiFi Module for IOS and Android£189.99 £147.00

In Stock!